Traditionally used in shoe production, brogueing is an instantly recognisable detail that resonates with our passion for intricate craft-based techniques. Modern brogues trace their roots to a rudimentary shoe originating in Scotland and Ireland that was constructed using untanned hide with perforations that allowed water to drain from the shoes when the wearer crossed wet terrain such as a bog.
The word, Irish and Scots Gaelic brōg, comes from Old Norse brók 'leg covering', which is related to English breeches and was first used to describe a form of outdoor, country walking shoe in the early twentieth century. At that time the brogue was not considered to be appropriate for other occasions, social or business.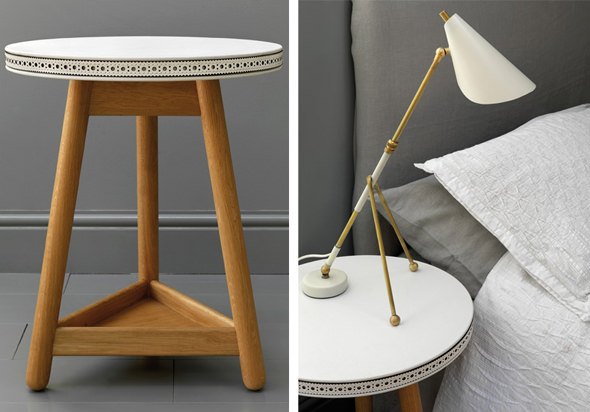 Welsh born Bethan Gray is one of Britain's most celebrated furniture designers best known for her liveable, honest and warm designs. She first came to recognition when she was awarded the Habitat Innovation Award by Tom Dixon at New Designers in 1998 and has since won three Elle Decoration Design Awards for Best in Kitchen in 2005 and Best High Street Retailer in 2007 and 2008.
Working closely with Matthew Hilton during his residence at Habitat, Bethan was made Head of Furniture Design before setting up her own studio in 2008. Most recently Bethan has established G&T – a furniture collection and collaboration between award-winning British designer Bethan Gray and industry recognised furniture developer Thomas Turner – and created an elegant leather-topped, solid wood table featuring intricate wax-thread stitched brogue detailing.